Biosafety Level III (BSLIII) Core Facility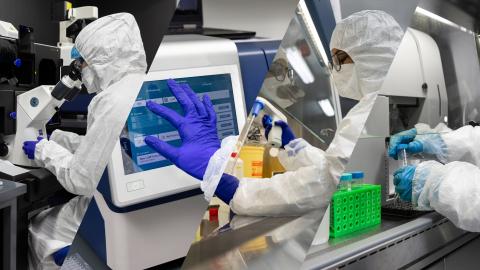 The IDM Biosafety Level III (BSLIII) Core Facility provides two fully equipped laboratories operating across two floors in the IDM, Wernher & Beit South building, UCT Faculty of Health Science Campus.  All operational safety practices employed in the facility are compliant with the relevant national and international BSLIII legislation. The BSLIII facility has received national accreditation from the Department of Agriculture, Land Reform and Rural Development (DALRRD) and the South African Council for the Non-Proliferation of Weapons of Mass Destruction. The facility runs in accordance to a Code of Practice, which outlines the Standard Operating Procedures that dictate the safety processes and structural systems in place.
The facility contains an 18-color BD FACS Aria Fusion with single cell sorter abilities and conventional 2- and 4-way sorting options, a fast scanning Molecular Devices ImageXpress confocal microscope and a Zeiss Elyra super-resolution microscope. The laboratories also harbour standard equipment including a class I, class III and multiple class II biosafety cabinets, a Bactec MGIT 960 for clinical trial studies, multiple micro- and large centrifuges, autoclaves, various microscopes, colony counters, mycobacterial culture rollers and shakers, standard and mammalian cell culture CO2 incubators for cultures and plates, -20oC and -80oC freezers for reagent, specimen and culture storage, a Leica Microtome for tissue analysis, ID3 plate readers for bacterial MIC and mammalian cell assays, amongst others.
New users that wish to work in the facility will need to undergo medical screening, a formal induction and extensive online and practical training in the facility. Thereafter, they will need to complete and pass a written and practical competency assessment to be able to gain access to the facility as an independent user. New FACS Aria Fusion users also need to undergo medical screening, induction and training. Thereafter, they can either work under supervision on the instrumentation, or undergo a two part competency assessment to gain independent access to the instrument. Further training details are outlined here.
The facility is led and managed by the Lead Academic, Associate Professor Suraj Parihar, and the Laboratory Manager, Selisha Naidoo, who are responsible for ensuring optimal day-to-day operation, management of the facility at the accredited national and international standards, and facilitating new user inductions and assessments
New users should contact Suraj Parihar and Selisha Naidoo to work in the BSLIII facility.